Falcon-Briefing - view briefings on your smartphone/tablet/any web browser
I have created a little tool for myself to display the briefings on my smartphone and wanted to share it if someone else finds it useful too. It's written in Python and free software licensed under the GPL.
Source and Download: https://github.com/dglava/falcon-briefing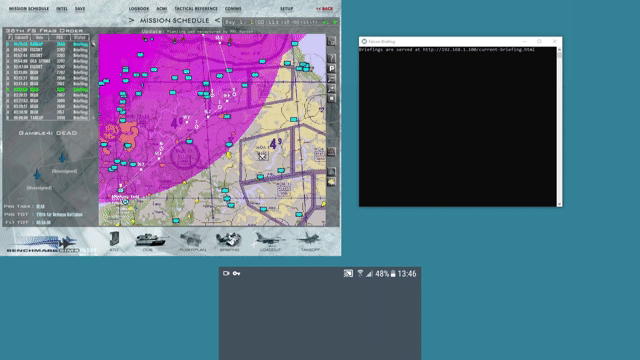 Before I had made this, I resorted to taking pictures of the briefing screen or running a HTTP server and navigating to the files inside my smartphone's browser. I wanted to automate as much as possible and this is as far as I have gotten convenience-wise. I don't know if a similar tool already exists (a quick internet search didn't yield any results). If you use the pilot-model in-game, you might want to check out the EZBoards tool. I don't play with the pilot-model on, so I prefer to view the briefings on my phone.
How I use this utility (see GIF from above):
Run either:

falcon-briefing.py with Python
use the precompiled executable

Enable "Briefing Output to File" and "HTML Briefings" in the Falcon BMS options
Click the "Print" button when you are viewing a briefing inside Falcon BMS
Open the address shown in the falcon-briefing.py window (Example: http://192.168.1.100:8000/current-briefing.html) with your smartphone's browser.)
Falcon-Briefing is a simple script which starts an HTTP server inside the briefings directory (it gets the directory automatically using your Falcon BMS installation path) and then watches for new HTML (briefing) files created inside. It also renames the briefings, so you can just always open the same address in your browser and get the proper briefing (the last one you "Printed"). Remember to turn on the HTML briefings option.
Update: 24.04.2022: Fixed for Falcon BMS 4.36
posted in Tools & Apps
J